Gobierno de Nicaragua brinda atención integral a familias de Alal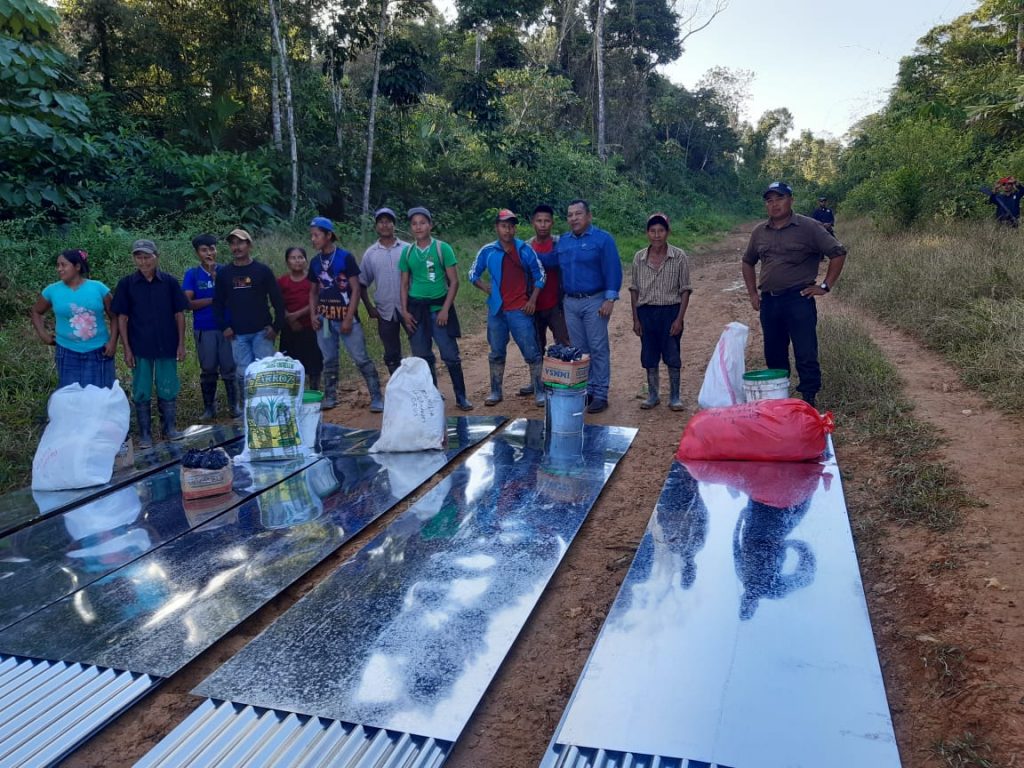 Fotos e infromación de Martin Cruz/Bonanza
El Gobierno de Nicaragua  atiende de forma integral a las familias afectadas por el conflicto de tierras en Alal donde un ajuste de cuentas dejó como saldo cuatro indígenas fallecidos y más de 12 viviendas quemadas.
Lo anterior ocurrió tras el ataque de Isabel Meneses Padilla, quien llegó a cobrar venganza por la matanza que fue víctima su familia en diciembre pasado por un grupo de indígenas Mayangnas, en Alal, Territorio Indígena Mayangna Sauni As en Bonanza.
El alcalde de Bonanza, Alexander Alvarado, llegó con un equipo del Gobierno municipal para entregar láminas de zinc y clavos, como parte del plan de atención integral que se lleva a cabo en Bonanza para atender a estas familias.
"El día de hoy estamos entregando la parte que queda pendiente para que en pocos días nosotros podamos entregarle a los comunitarios afectados de Alal ya su vivienda reconstruida, cada familia está recibiendo 22 láminas de zinc y una lámina lisa, en este caso el Gobierno del presidente Daniel Ortega y la vicepresidenta Rosario Murillo entrega para estos casos de emergencia una vivienda de 20×20".
Los indígenas están agradecidos con el apoyo que están recibiendo del Gobierno de Nicaragua y las autoridades locales de Bonanza.
Martin Miguel, indígena de Alal, dijo que el Gobierno les ha entregado ropa, trastes de cocina, alimentos, colchones y otros enseres que son de primera necesidad para las familias y por ello están agradecidos.
Melvin Devis dijo que está orgulloso y agradece al presidente Daniel o
Ortega y a Rosario Murillo «por atenderlos de forma inmediata después de haber sido afectados por el conflicto de tierras».
Rosa Miguel Devis Dixon, dijo que como madre soltera no podía tener los recursos para reconstruir su vivienda por eso agradece al Gobierno de Nicaragua y todos los que están apoyándolas en su comunidad.
El pasado 29 de enero un grupo armado al mando de Isabel Meneses atacó a los indígenas y mataron a cuatro personas, quemaron sus viviendas.
Government of Nicaragua provides comprehensive care to Alal families
The Nicaraguan Government provides comprehensive assistance to the families affected by the land conflict in Alal, where an adjustment of accounts left four dead Indians and more than 12 homes burned.
This happened after the attack by Isabel Meneses Padilla, who came to receive revenge for the slaughter that her family was victimized last December by a group of Mayangnas Indians, in Alal, Mayangna Sauni As Indigenous Territory in Bonanza.
The mayor of Bonanza, Alexander Alvarado, arrived with a municipal government team to deliver sheets of zinc and nails, as part of the comprehensive care plan carried out in Bonanza to serve these families.
"Today we are delivering the remaining part so that in a few days we can deliver to the affected community of Alal and their reconstructed housing, each family is receiving 22 sheets of zinc and a smooth sheet, in this case the Government of President Daniel Ortega and Vice President Rosario Murillo delivers a 20×20 home for these emergency cases. "
The indigenous people are grateful for the support they are receiving from the Government of Nicaragua and the local Bonanza authorities.
Martin Miguel, a native of Alal, said that the Government has given them clothes, kitchen dishes, food, mattresses and other items that are essential for families and for that they are grateful.
Melvin Devis said he is proud and thanks to President Daniel or
Ortega and Rosario Murillo «for attending immediately after being affected by the land conflict.»
Rosa Miguel Devis Dixon said that as a single mother she could not have the resources to rebuild her home, she thanks the Government of Nicaragua and all those who are supporting them in her community.
On January 29, an armed group under Isabel Meneses attacked the natives and killed four people, burned their homes.
188 Views totales, 1 Visitas hoy