Minsa en conversación directa con la población para prevención del COVID 19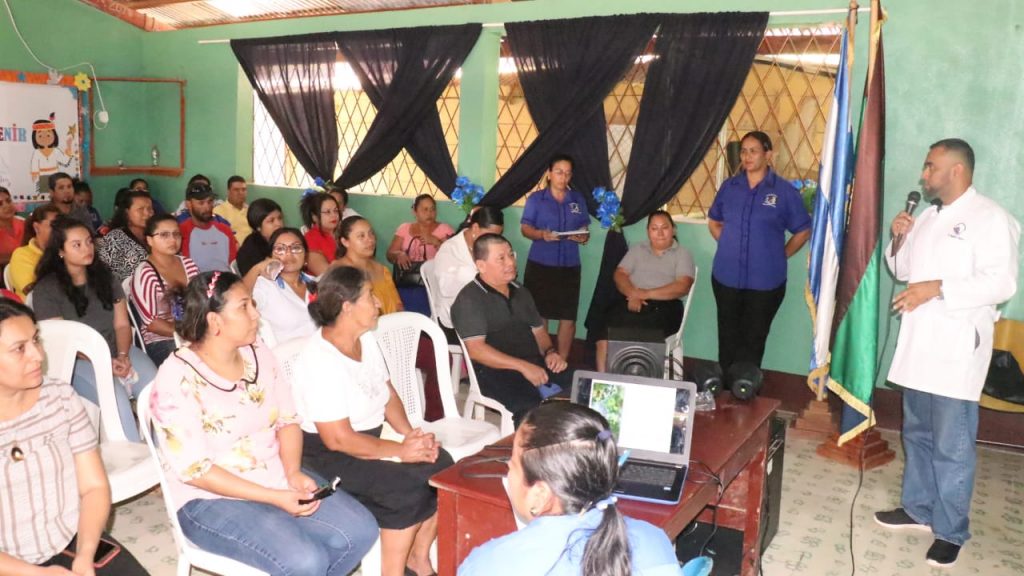 Funcionarios del Ministerio de Salud de Nicaragua, cumpliendo orientación del presidente de Nicaragua, Daniel Ortega, se ha desplazado en cada uno de los territorios realizando asambleas comunitarias con padres de familias en los colegios públicos y privados para informar a la población sobre las medidas de prevención del Coronavirus.
En Siuna, el doctor Rigoberto Chávez, director el Hospital Carlos Centeno explicó a un grupo de padres de familia del Instituto Parroquial San Francisco de Asís sobre las medidas que se están tomando en el país, y afirmó que no hay ningún caso sospechoso de esta enfermedad en Nicaragua.
El doctor Chávez dijo que los únicos autorizados en Nicaragua para dar a conocer a la población sobre un caso sospechoso es la asesora del presidente, Sonia Castro, para asuntos de la salud y la vicepresidenta Rosario Murillo, por lo tanto, pidió calma a todos y manejar esta situación con mucha calma.
Describió como se originó la enfermedad en los países asiáticos donde ya se ha controlado, sin embargo, en el mundo está considerado porque la Organización Mundial de la Salud decretó una pandemia.
El doctor Chávez dijo que el Gobierno de Nicaragua, una vez que se tenga el primer caso de coronavirus lo dará a conocer para evitar que se propague, sin embargo, dijo que Nicaragua es el único país en Centroamérica que tiene un sistema de salud muy bien organizado y por ello se ha logrado mucho éxito en materia de salud.
Las medidas de prevención anunciadas por el doctor Chávez están relacionadas a la higiene: lavarse las manos con agua y jabón para evitar el contagio, taparse la boca al estornudar.
Anunció que el Minsa seguirá llevando la información clara a la población de Nicaragua para garantizar la salud de todos y todas, además dijo que hay una comisión nacional que está realizando la vigilancia y se están tomando las medidas preventivas.
Minsa in direct conversation with the population to prevent COVID 19
Officials from the Nicaraguan Ministry of Health, complying with the guidance of the Nicaraguan President, Daniel Ortega, have traveled in each of the territories holding community assemblies with parents of families in public and private schools to inform the population about prevention measures. of the Coronavirus.
In Siuna, Dr. Rigoberto Chávez, director of the Carlos Centeno Hospital explained to a group of parents from the San Francisco de Asís Parish Institute about the measures being taken in the country, and stated that there is no suspected case of this disease. In Nicaragua.
Dr. Chávez said that the only ones authorized in Nicaragua to make the population aware of a suspicious case is the president's adviser, Sonia Castro, on health issues and vice president Rosario Murillo, therefore, asked everyone to calm down and handle this situation very calmly.
He described how the disease originated in Asian countries where it has already been controlled, however, in the world it is considered because the World Health Organization decreed a pandemic.
Dr. Chávez said that the Government of Nicaragua, once you have the first case of coronavirus, will announce it to prevent it from spreading, however, he said that Nicaragua is the only country in Central America that has a very good health system. organized and for this reason much success has been achieved in health.
The preventive measures announced by Dr. Chávez are related to hygiene: wash your hands with soap and water to avoid infection, cover your mouth when sneezing.
He announced that the Ministry will continue to provide clear information to the Nicaraguan population to guarantee the health of all, and also said that there is a national commission that is conducting surveillance and preventive measures are being taken.
136 total views, 2 views today