Entregan viviendas nuevas a comunitarios de Alal en Bonanza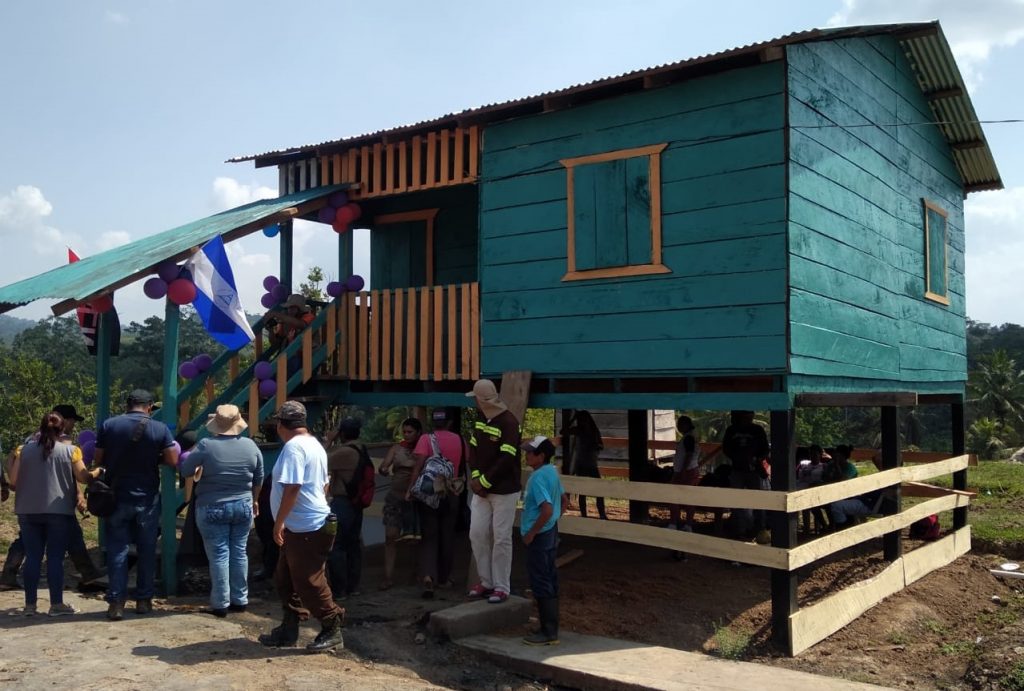 13 viviendas fueron reconstruidas totalmente para igual número de familias que fueron afectadas por un grupo de personas que atacaron a los indígenas en represalia por la muerte de una familia por parte de los indígenas en Bosawas.
Las viviendas fueron entregadas por el Gobierno este sábado en la comunidad de Alal, jurisdicción del Territorio Mayangna Sauni As en bonanza.
Las viviendas cuentan con servicio de energía eléctrica y acceso a agua potable, que también fueron servicios entregados a los comunitarios por las autoridades gubernamentales.
El proyecto se ejecutó con una inversión total de C$ 1 millón 441 mil 165.50 córdobas de los cuales el Gobierno Municipal de Bonanza aportó C$1 millón ,370 mil 059.50 córdobas y el Sistema Nacional para la Prevención, Mitigación y Atención de Desastres (SINAPRED) el monto de C$ 71, mil 110.00 córdobas
El gobierno municipal de Bonanza dotó con una pizarra acrílica la escuelita de la comunidad.
La comunidad de Alal celebro con actos culturales donde se destacó la cultura indígena Mayangna.
New homes delivered to Alal community in Bonanza
13 houses were completely rebuilt for the same number of families that were affected by a group of people who attacked the indigenous people in retaliation for the death of a family by the indigenous people in Bosawas.
The houses were delivered by the Government this Saturday in the Alal community, jurisdiction of the Mayangna Sauni As Territory in bonanza.
The houses have electric power service and access to drinking water, which were also services provided to the community by government authorities.
The project was executed with a total investment of C $ 1 million 441 thousand 165.50 córdobas, of which the Municipal Government of Bonanza contributed C $ 1 million, 370 thousand 059.50 córdobas and the National System for the Prevention, Mitigation and Attention of Disasters (SINAPRED) the amount of C $ 71, one thousand 110.00 cordobas
The Bonanza municipal government provided the community school with an acrylic slate.
The Alal community celebrated with cultural events where the Mayangna indigenous culture was highlighted.
129 total views, 2 views today