Dos detenidos, cinco armas de fuego, municiones y ropa camufle ocupadas en Siuna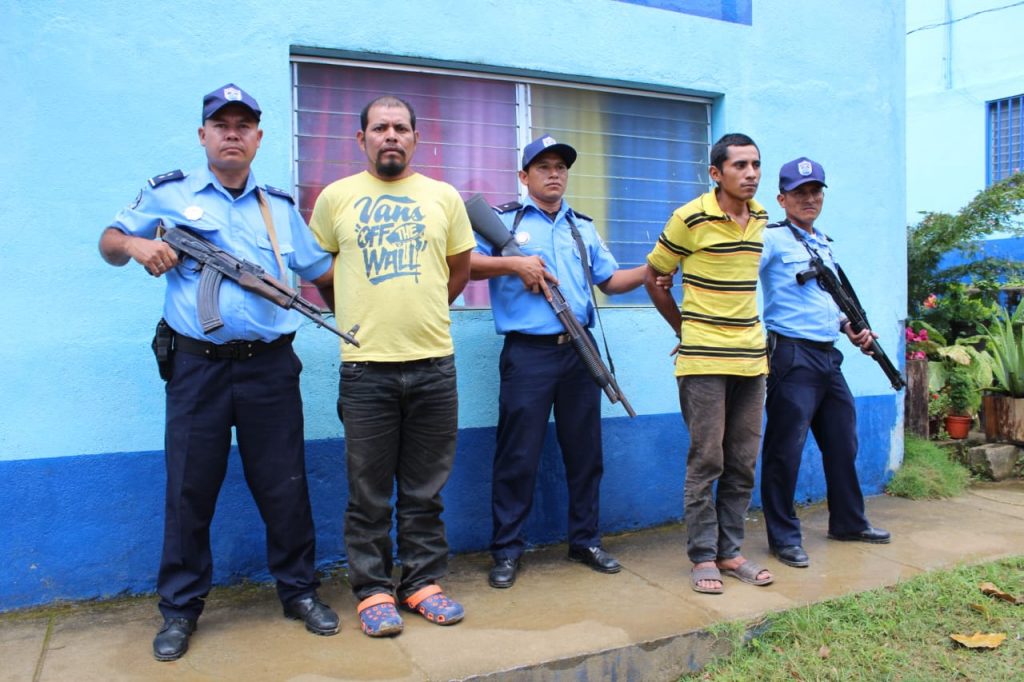 Cándido Guido Muñoz de 30 años y Leopoldo Ochoa Díaz de 40 años fueron detenidos por las autoridades policiales en la comunidad de Culta a 35 kilómetros al noroeste de Siuna en el Caribe Norte de Nicaragua.
El comisionado Mayor Oscar Alemán segundo jefe de la Policía nacional dio a conocer que a los dos detenidos les ocuparon armas y municipios y serán enviados a los tribunales por tenencia ilegal de armas de fuego.
El jefe policial dijo que fueron ocupados 2 fusiles calibre 22, 2 revólveres calibre 38, 1 pistola calibre 22, 87 unidades de munición para escopeta calibre 12, 5 prendas de vestir y 2 sombreros camufles.
El comisionado Mayor Alemán dijo que los investigadores policiales realizaron peritaje balístico y químico revelando los siguientes resultados, que las armas de fuego en buen estado técnico, se encuentran aptas para el disparo.
Las investigaciones también revelaron que las recámaras de las armas contienen residuos de productos nitrados. (recién disparadas), productos nitrados en dorsales de ambos delincuentes presos y prendas de vestir camufle.
Two detainees, five firearms,  munition and camouflage clothing occupied in Siuna
Cándido Guido Muñoz, 30, and Leopoldo Ochoa Díaz, 40, were detained by police authorities in the community of Culta, 35 kilometers northwest of Siuna in the Northern Caribbean of Nicaragua.
The Chief Commissioner Oscar Alemán, second chief of the National Police, announced that the two detainees were occupied by weapons and municipalities and will be sent to court for illegal possession of firearms.
The police chief said 2 22-caliber rifles, 2 38-caliber revolvers, 1 22-caliber pistol, 87 units of 12-caliber shotgun ammunition, 5 clothing and 2 camouflage hats were occupied.
The German Senior Commissioner said that the police investigators carried out ballistic and chemical expertise revealing the following results, that firearms in good technical condition are fit for firing, the chambers contain residues of nitrated products. (recently shot), nitrated products on the backs of both imprisoned criminals and camouflage clothing.
139 total views, 2 views today